Как избавиться от бородавки на руке?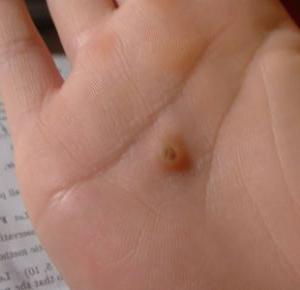 Убрать папилломы и бородавки можно быстро при помощи. Читать далее.
Бородавки – это весьма неприятные новообразования, которые, как правило, возникают на самом видном месте и доставляют значительный эстетический дискомфорт своему носителю. Их появление связывают с инфицированием вируса папилломы человека.
По статистике этим вирусом заражены 3 из 4 жителей нашей планеты. Однако бородавка возникает только у 1-2%, так как причиной активации вируса папилломы человека является снижение иммунитета.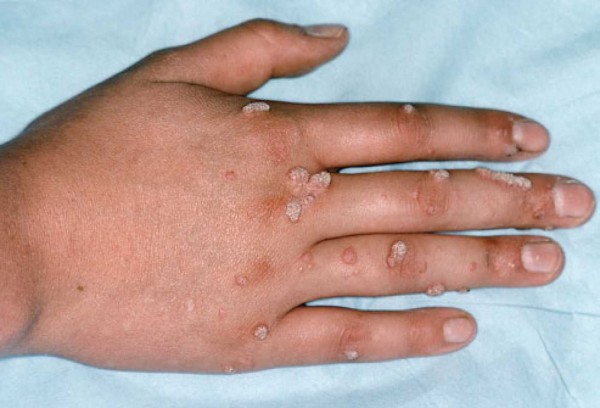 На сегодняшний день существует очень много способов лечения бородавок, которые применяются как в домашних условиях, так и в условиях медицинского учреждения.
Помните о том, что не каждый способ будет одинаково эффективен для вас, поэтому необходимо проконсультироваться с профессиональным дерматологом, который с высокой точностью поставит диагноз и назначит наиболее адекватное лечение, учитывая особенности вашего организма.
Важно помнить! Сегодня многие считают, что бородавки – это самое безобидное кожное заболевание, однако, это не так. Помните о том, что оно может перерасти в злокачественное новообразование, хотя такие случаи и редки. Поэтому лучшим решением станет обращение к специалисту за консультацией.
Сложности диагностики
К сожалению, даже опытный дерматолог не сможет с первого взгляда определить бородавку, так как она очень похожа на другие новообразования. При диагностировании необходимо дифференцировать это заболевание от следующих недугов и новообразований:
сифилис;
злокачественная опухоль;
родинка;
кондилома и другие.
Чтобы поставить точный диагноз, необходимо провести дерматоскопию. Только по ее результатам дерматолог может наверняка сказать, какой из методов лечения выбрать применимо к вашему случаю.
Лечение
Чтобы быстро и эффективно вылечить бородавки, необходимо прибегнуть к двум основным подходам к лечению: иммунотерапии и деструкции новообразования. Рассмотрим оба подхода поподробнее.
Иммунотерапия
К сожалению, даже современная медицина не способна до конца вылечить это заболевание, так как не располагает достаточно мощными противовирусными средствами, чтобы уничтожить вирус папилломы человека, который и является причиной появления бородавок.
Однако врачи избрали другой подход к лечению. Известно, что иммунитет человека при достаточной силе может справиться с любым заболеванием. Поэтому врачи прибегнули к стимуляции иммунитета, чтобы уничтожить вирус папилломы человека и не допустить его развитие в организме.
Стимулировать иммунитет и усилить его можно двумя способами, которые лучше применять в комплексе.
медикаментозные препараты. К ним можно отнести Виферон, Интерферон, Панавир и другие. Они способствуют местному усилению иммунитета возле бородавки;
смена образ жизни. Если вы постоянно ведете пассивный образ жизни, имеете вредные привычки и не контролируете свой режим сна – вы подвергаете свой иммунитет серьезным нагрузкам. Отказ от вредных привычек, сбалансированное питание, налаженный режим работы и отдыха, сна и бодрствования, регулярные умеренные физические нагрузки и отдых на свежем воздухе. Все это способствует укреплению иммунитета. Так вы можете не только избавиться от бородавок, но и предотвратить появление других, более сложных заболеваний.
Деструктивное лечение
Этот подход основывается на удалении самого новообразования. Здесь существует масса методов с разными характеристиками, которые успешно используются в современной медицине и часто рекомендуются врачами. Мы приведем лишь самые действенные и распространенные из них.
Лазерная терапия
Это один из самых распространенных методов удаления бородавок. Его суть заключается в использовании специального лазерного ножа, которым орудует врач в операционной. При помощи этого ножа срезается бородавка, а на ее месте остается тонкая корочка. Необходимо оградить ее от воздействия влаги и травмирования.
Сама операция проводится очень быстро и безболезненно, так как используется местная анестезия. После операции не остается шрамов, что позволяет навсегда забыть о заболевании. Недостатками метода являются: относительно высокая стоимость, необходимость проведения в медицинском учреждении и низкая распространенность.
Специалисты говорят о том, что во время проведения операции в воздух попадется большое количество вирусов, поэтому необходимо, чтобы в операционной находилась мощная вытяжка. Так вы сможете предотвратить рецидив заболевания и возникновение бородавок на других участках кожи.
Криодеструкция
Это еще один популярный методов лечения бородавок, который вот уже несколько лет успешно применяется в современной медицине. Врачи чаще всего рекомендуют его, так как он практически не имеет противопоказаний.
Уничтожить папилломы и бородавки можно за 3 дня без операции с помощью. Читать далее.
Его суть заключается в использовании сверхнизких температур жидкого азота. При помощи этого вещества бородавку прижигают и от новообразования не остается и следа.
Важно помнить! Операцию должен проводить только опытный квалифицированный специалист, который сможет точно рассчитать время воздействия жидкого азота на новообразование, чтобы не травмировать здоровый кожный покров и не допустить рецидив.
Преимуществами этого метода являются: быстрое проведение операции, отсутствие болевых ощущений, не нужно применять анестезию. К недостаткам относят: относительно высокую стоимость и длительный период восстановления. После операции на месте новообразования появляется небольшой волдырь, который затем затягивается. Во время периода восстановления необходимо не подвергать волдырь механическим нагрузкам и воздействию влаги.
Электрокоагуляция
Данный метод не так часто рекомендуют к применению. Как и во время лазерного лечения, в процессе проведения электрокоагуляции в воздух попадет большое количество вирусов, что может привести к повторному образованию этих наростов и заражению других людей. Поэтому в помещении должна быть мощная вытяжка, а весь персонал должен работать в перчатках и масках.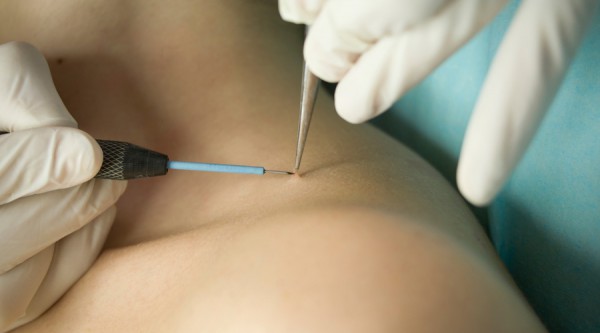 Лечение бородавки — электрокоагуляция
Суть метода заключается в использовании переменного электрического тока повышенных частот. При помощи высокой температуры бородавку прижигают, после чего она отходит. После операции довольно часто остается шрам или рубец.
Хирургическое иссечение
Этот метод лечения хоть и считается устаревшим по отношению к лечению бородавок, но все же продолжает применяться для выведения особенно больших новообразований. В этом случае не избежать кровотечения, а вероятность рецидива существенно повышается. Операция требует длительного и болезненного периода восстановления, проводить ее можно только в условиях медицинского учреждения.
Во время периода восстановления пациент должен часто ходить на перевязки. К преимуществам этого метода можно отнести бесплатность. Врачи прибегают к применению этого метода только в крайних случаях.
Суперчистотело
Этот препарат продается в аптеках в открытом доступе без рецепта врача. Специалисты-дерматологи довольно часто назначают его, так как он считается очень эффективным и при этом не оставляет шрамов или рубцов, а период восстановления занимает всего несколько дней.
Он позволяет очень быстро избавиться от заболевания. Это средство содержит в своем составе две щелочи, которые деструктивно воздействуют на новообразование и разрушают его изнутри. Вы можете самостоятельно применять это средство с некоторыми ограничениями.
Важно помнить! Препарат «Суперчистотело» содержит сильные химические реагенты, которые могут нанести значительный вред здоровым кожным покровам, поэтому применять его можно только местно, чтобы не получить химический ожог.
Способ применения очень прост. Достаточно один раз в три дня наносить средство при помощи специального аппликатора, который идет в комплекте, на новообразование. Уже после нескольких применений бородавка почернеет и сойдет с кожи.
Салициловая кислота
Это еще одно средство, которое продается в аптеке в свободном доступе. Его издавна применяют для лечения различных кожных заболеваний. Оно отлично помогает в борьбе с бородавками, при этом практически не повреждает здоровые кожные покровы при непродолжительном контакте с ними.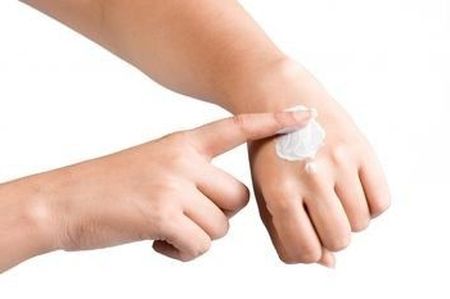 Салициловая мазь от бородавок
Отпускается салициловая кислота в разной форме: мазь, пластыри и жидкость. Вы можете выбрать любую, но врачи рекомендуют именно пластыри. Дело в том, что они наиболее удобны в применении. Достаточно наклеить пластырь на новообразование и менять его по мере загрязнения.
Этот метод требует более длительного промежутка времени для лечения, чем предыдущий, но при этом он очень деликатно удаляет бородавку и не оставляет шрамов. В составе нет опасных химических реагентов, но следует беречь глаза от попадания средства.
Лучше всего метод лечения вам порекомендует врач, поэтому не стоит заниматься самолечением!
YouTube responded with an error: Daily Limit Exceeded. The quota will be reset at midnight Pacific Time (PT). You may monitor your quota usage and adjust limits in the API Console: https://console.developers.google.com/apis/api/youtube.googleapis.com/quotas?project=726317716695
Убрать папилломы и бородавки можно быстро при помощи. Читать далее.